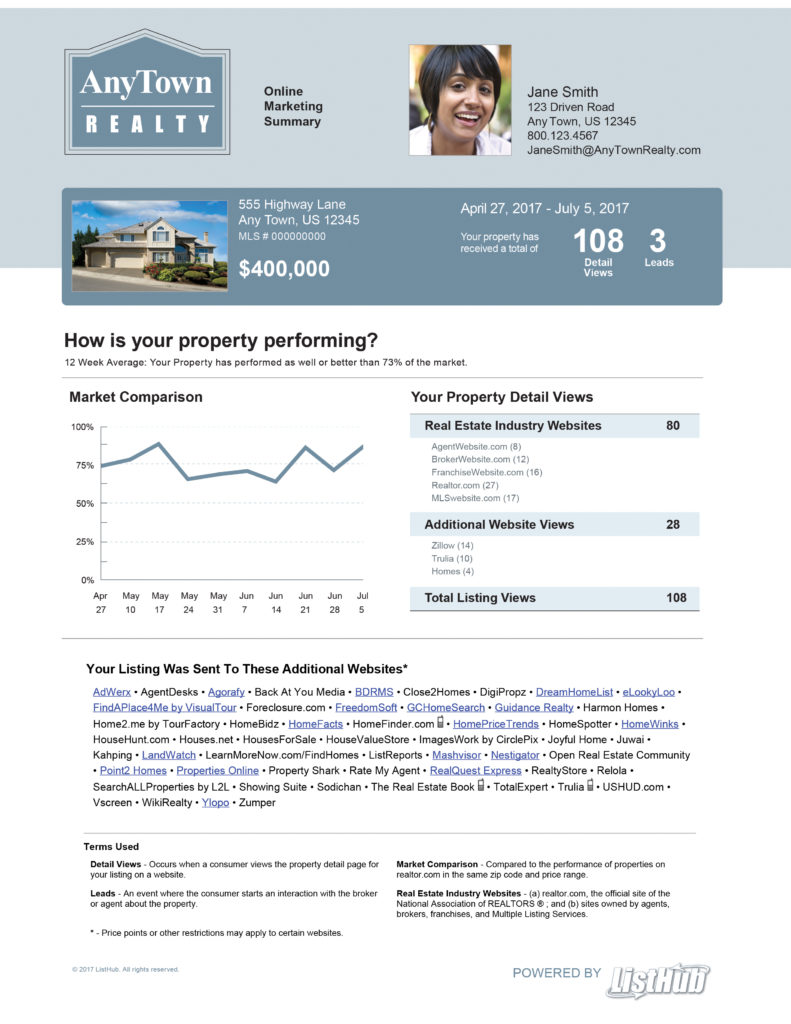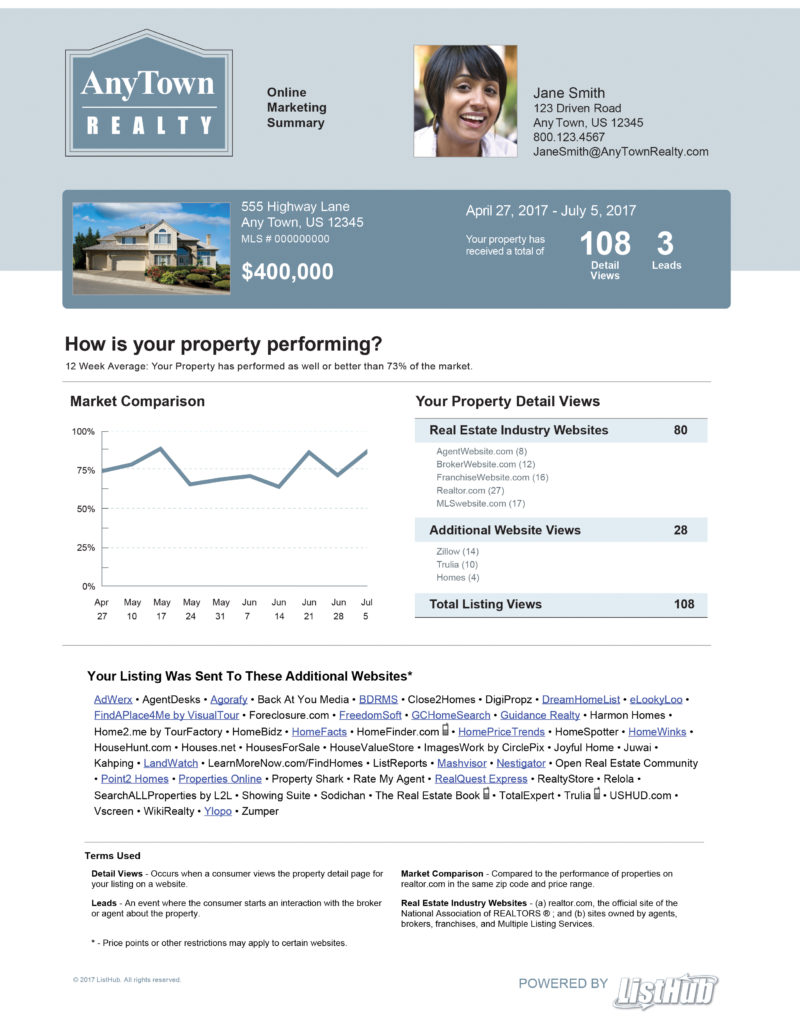 ListHub's Market Comparison Seller Report answers a key question from sellers: How is my listing performing compared to similar properties in the market?
With the market comparison report, you and your agents can share a more complete story about how your client's listing is performing online compared to listings within a similar price range and zip code. The report prominently features industry websites like realtor.com®, your MLS public website, and your broker or agent website to demonstrate the value only a real estate professional can offer.
Key Benefits:
Benchmarking statistics to provide agents and their clients  with greater context about how their listing  is performing online compared to the market
Highlights the value only a real estate professional can provide by featuring Real Estate Industry Websites
Keep in contact with clients on a regular basis with ListHub's auto-email  feature. Set it up one time and schedule for delivery!
Tells sellers what they really want to know! How does their property compare to  the market?
Log In Today
Reporting customers can log in today to view and schedule this Seller Report to be sent to clients.  Click on the "Inventory" tab then "Seller Report" or "Seller Email" beneath the listing.
Don't have reports? Call 877-847-3394 x1 or email info@listhub.com to learn more.
FAQs
Who has access to this report?
All ListHub Pro and Pro-Plus customers have access to the Market Comparison report, including versions with and without the number of leads. Some brokers and agents may have access through their MLS or franchise affiliate.  Email info@listhub.com if you have questions, or if you'd like to upgrade to access these reports.
How does the Market Comparison property define similar properties? 
Similar properties are defined as properties within the same price range and zip code.
What is the date range for the data collected in the new report?
ListHub is collecting data for the life of the listing, or the date shown in the upper right section of the report below your agent contact information.  The number of views and leads your listing has received, and the average market performance percentage (listed below "How is your property performing?")  is cumulative for the date range listed.  

The Market Comparison graph is limited to the most recent 10 weeks of data.



What are Real Estate Industry Websites?
An industry real estate website is defined as (a) realtor.com®, the official site of the National Association of REALTORS®, and (b) sites owned by agents, brokers, franchises, and Multiple Listing Services. Real Estate Industry Websites offer clients exposure they could only get by working with a real estate professional.
How can I include my broker or agent website in the Market Comparison report?
To include metrics from your own website, you can sign up for ListHub Pro-Plus.  Log in to your account and click the "Upgrade" icon OR email info@listhub.com for details.
How can I include Zillow Group metrics on my Seller Reports (and in my reporting dashboard)?
Click here to learn how to get metrics from Zillow and Trulia included on your ListHub reports.
Is training available to learn how to get the most of my ListHub Reports?
Yes! Click here to sign up for one of our free weekly training webinars.
Published: May 2015