2014 was a record year for the ListHub network. We more than doubled the number of new MLS sources added compared to the previous year, along with registering an average of 860 brokers each month. 2015 has already shown tremendous growth with over 50 new MLSs added in less than two months!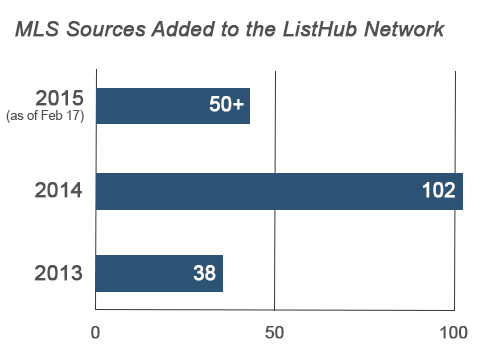 If you are new to the ListHub network – welcome! There are a number of benefits available to our broker customers, at no cost. Benefits include:
Complete Platform:Manage all of your settings centrally and effortlessly, plus ListHub provides a single point of contact for support across all publishers. Contact customercare@listhub.com for support
Broad Exposure:More than 70 national publisher sites, and dozens of regional and affiliate sites to choose from
Lead Management:Route leads to your agents, or to your centralized lead system – flexible for multi-office and agent exceptions
Protection for Your Content:ListHub works with publishers who agree to specific terms that ensure your listing content is used for consumer display only, keeping your listings safe from misuse, and keeping you in control of your data. Review the complete list of the standard protections that benefit ListHub customers
Preferred Publisher Program (Exclusive):For selective marketing, use filters to easily choose sites based on key criteria
Publisher Ratings (Exclusive):Rate the publishers on a 5-star system, and view the ratings and comments from other brokers across the nation
The Real Estate Network (Exclusive):ListHub is the only method for sending your listings to a collection of major franchise websites, including remax.com, coldwellbanker.com, century21.com, and realtyexecutives.com (Click here to learn more.)
Fannie Mae:ListHub is Fannie Mae's chosen partner for REO brokers and agents to send Fannie Mae-owned listings to their consumer-facing website, HomePath.com. ListHub also automates participation for these listing agents in Fannie Mae's mandatory Online Offer system
Click here to view the full list of MLS sources.
Published: February 2015