What is Syndication?
Listing syndication is a method of advertising whereby brokers distribute or 'syndicate' active listing information to a wide variety of websites, mobile apps, and print publications to reach diverse consumers searching for properties to buy.
There could be many advertising destinations that make sense for a broker to leverage when exposing listings to consumers, including large national websites, locally focused websites, websites that specialize in niche markets or property types, and more. Since over 90% of consumers begin their home search online, it is essential that technology is available to support brokers in the process of distributing their listing content to maximize their opportunity to sell homes to meet the expectations of their clients.
While the wide variety of advertising choices is good for the consumer and broker, it can be challenging for brokers and agents to manage on their own.
Brokers and consumers expect their listings to be accurate and up to date, and often updated across dozens, or even hundreds of websites. Brokers have nuanced systems in place for lead routing and offer management. The variety of advertising models across the websites is too diverse for most brokers to continually monitor. And publishers of listing data are sometimes motivated to use the brokers' valuable listing data for purposes that go beyond the advertising intended by the brokers.
ListHub provides a managed platform to provide brokers of varying sizes, business models, and marketing objectives with a streamlined and safe process for advertising their listings online. With ListHub brokers have control over all of the important nuances of their advertising program and ensures that they have the visibility they need to make wise decisions. Finally, ListHub ensures that the listings displayed on publisher websites will be accurate and used strictly for online advertising purposes.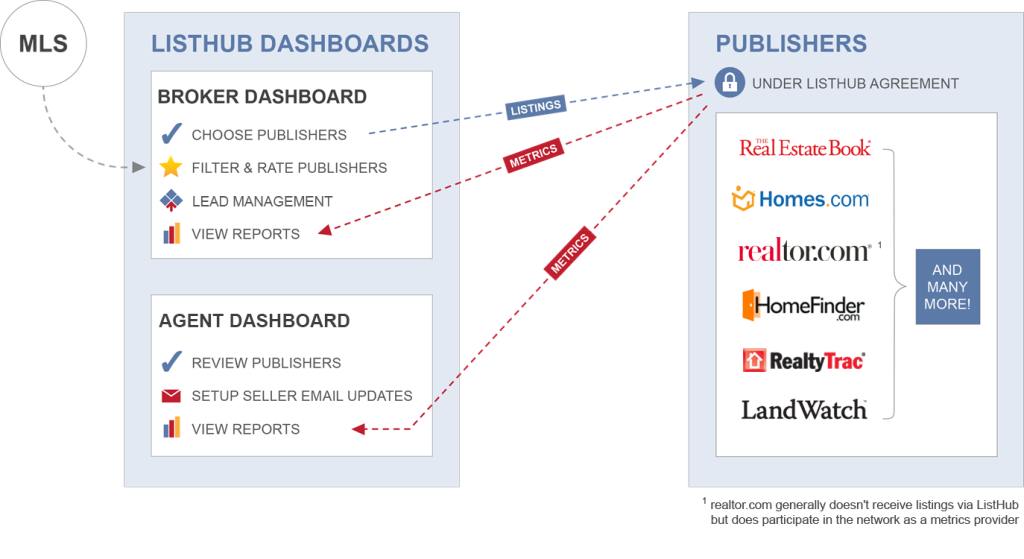 Difference between syndication and IDX
IDX and listing syndication often get confused. It is not surprising since both involve distributing and exposing listings online. But, they are different in one key aspect – IDX facilitates brokers advertising each others listings; syndication is strictly limited to a broker advertising their own listings.
IDX is a set of business rules that allows brokers who participate in the IDX program to display the MLS listings of other participating brokers in the MLS. This is necessary since there are legal and ethical restrictions that do not allow brokers to advertise other brokers listings without specific permission. Participating in the IDX program gives that permission and allows each participating broker to have a rich and comprehensive consumer search experience on their own websites and mobile apps. Participating in the IDX program is a broker choice. But, once that choice is made, brokers cannot decide which competing broker sites can display their listings. Any participating broker can display any other participating broker's listings – and vice versa.
Syndication is a process by which brokers make decisions about advertising their listings only.
The choice of one broker does not impact the choice of another broker whatsoever. This is similar to the days when print advertising was the primary method. Each broker was in full control on how and where to advertise their own listings. They could choose some publications and not others, and could promote their listing any way they wished as long as they followed state laws and other legal requirements on advertising. Online advertising works in much the same way. Brokers are free to decide which sites and apps they want to do business with.
Since these consumer portals are not operated by brokers, they are not subject to IDX display rules. Instead, the terms for display are governed by one of the following: the Terms and Conditions on the publisher website, an agreement between the listing broker/agent and the publisher, or in the case of ListHub, the ListHub publisher agreements. The ListHub publisher agreements provide brokers with protections and display rules that supersede the publisher's Terms and Conditions. Brokers, agents and MLSs may also work with the publishers directly to negotiate additional terms that extend beyond those provided by the ListHub publisher agreements.