On June 23, Brexit, the abbreviation of the "British exit," became a reality. Though the separation has not legally taken place yet, the referendum by British voters to exit the European Union has already had major economic effects. Fortune.com reported:
The business outlook darkened by the most in four years, according to a survey published on July 11 when there were also fresh signs of a fall in consumer spending and a slowing of economic activity in London.
Another survey, published on July 8 showed consumer morale suffered its biggest drop in more than five years after the referendum, echoing other signs of a hit to confidence since the vote.
Brexit has not only provoked uncertainty among European consumers, but has caused a stir among real estate professionals within the United States. Will Brexit give U.S. real estate a boost or have adverse effects?
Download and share our infographic on the positive and negative implications of Brexit below: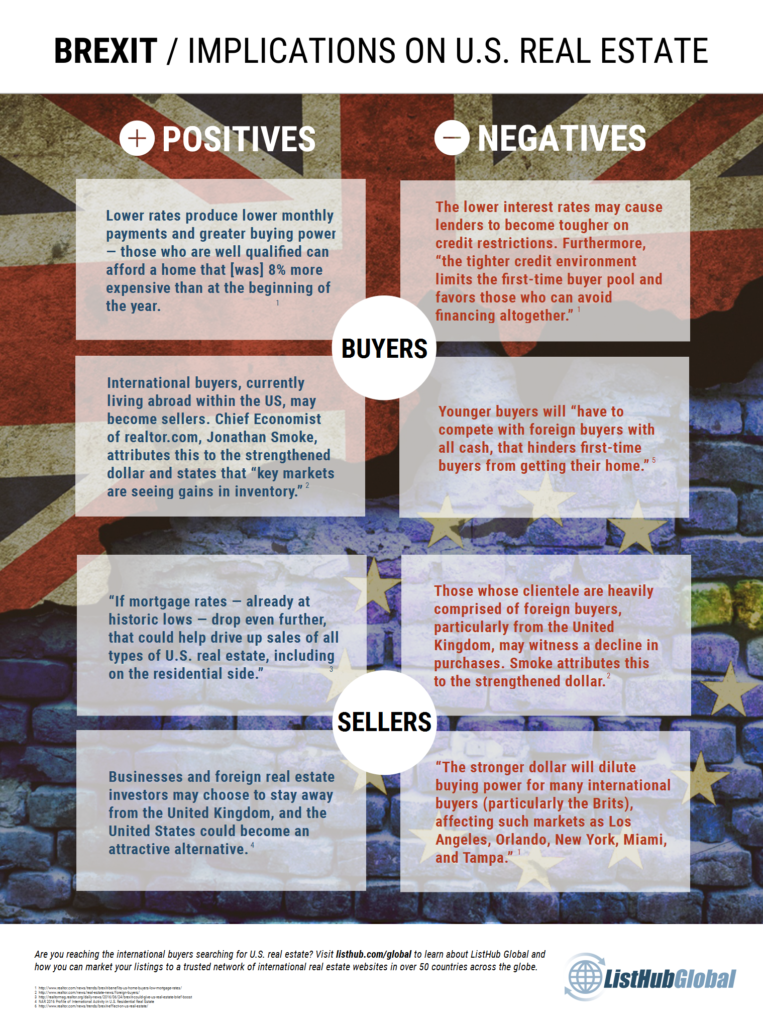 The vote to exit the European Union will continue to impact global markets, and the long-term effects on U.S. real estate may vary in the future. As explained by Jonathan Smoke:
Those already winning in the real estate market are getting a bigger boost from Brexit. Sellers in the right locations and price points will continue to have the upper hand as investors and first-time buyers fight for limited inventory. Well-qualified buyers will be able to capitalize on historically low mortgage rates.
Stay tuned to learn more about the implications of Brexit and keep up with the latest economic news from Jonathan Smoke here.
Are you reaching the international buyers searching for U.S. real estate? Click here to learn about ListHub Global and how you can market your listings to a trusted network of international real estate websites in over 50 countries across the globe.
---

Published: July 2016